Hi, friends!
Awhile back, I did a post like this one called "3 Classic Family Outfits to Wear to a Sunflower Portrait Session", and I've been told that everyone loves having a place to bookmark for outfit sources. If you'd like links to anything pictured, you'll find those below!
Having captured many Magic Sessions at Walt Disney World (not to mention being a Passholder myself), I feel especially capable when it comes to suggesting what to wear for a photo session at Magic Kingdom. Today, I'm sharing updated family outfit information for some of my favorite portrait sessions. Rather than give you a vague idea, I'm offering up specific styled ensembles for families with different styles, and sharing why I love them. 
The looks I'm sharing today are uniquely suited to Walt Disney World and they all have one thing in common - they're stylish and comfortable. Given that the weather can change quickly during your Disney photo session, it's important that you aren't thinking about how much your feet hurt. The family photo outfits you choose for your Magic Session should be comfortable and fashionable. 
What Should I Wear to Disney?
So, you booked your Magic Session, and now you want to find the perfect outfits for your family! I've created 3 different family ensembles that will perfectly complement the magical Walt Disney World scenery. You can also visit the #magicsessions Instagram account to see what families have worn for recent sessions!
Timeless Classic
First, we have a subtle red, white, and blue combination that would make Walt Disney himself beam with delight. There's nothing quite like the nostalgic Americana that fills Main Street U.S.A., and these outfits stir up that feeling beautifully. What modernizes the look is white denim and booties for mom, dressed up sneakers for dad, a chunky knit sweater for the little gentleman, and velvet hair accessories as an understated way to bring together mom and her sweet girl's outfits. Nothing quite says "America" like stripes, and striped knits are currently making a triumphant style comeback!
Visit the links below to shop the Ryaphotos Timeless Classic Family Outfits to Wear to Disney World!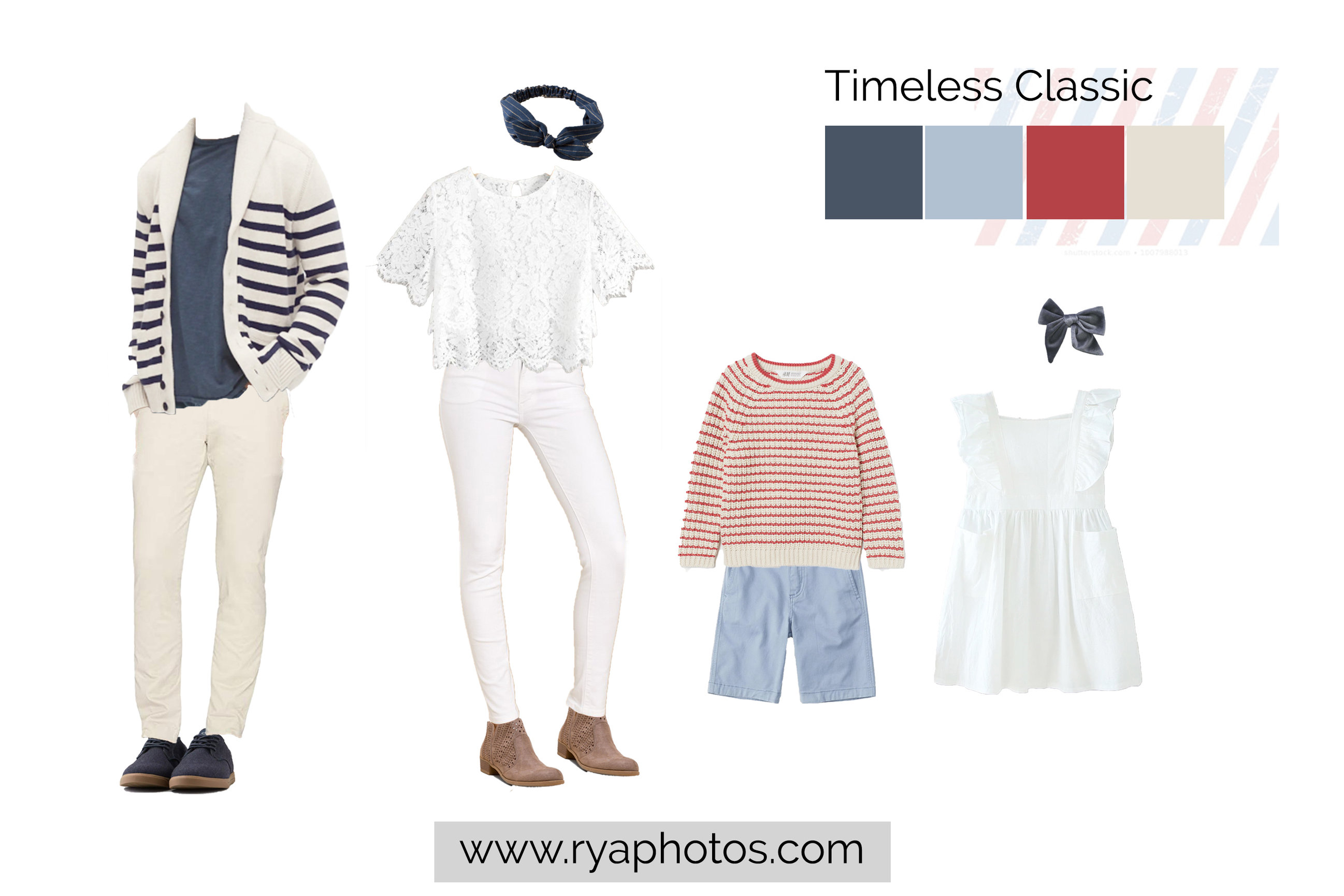 Dad's Outfit
Mom's Outfit
Son's Outfit
Daughter's Outfit
Casual Boho
If you follow my personal account on Instagram, you know how much I adore all things boho. Pastels and neutrals work hand-in-hand to emphasize the dreamy location that is Magic Kingdom's Fantasyland. Just try not to feel like a princess as you step onto the Prince Charming Regal Carrousel in a breezy maxi dress or gathered ruffle skirt. Embroidered details and lace accents give the look depth. 
Shop the Ryaphotos Casual Boho Family Outfits to Wear to Disney World, below!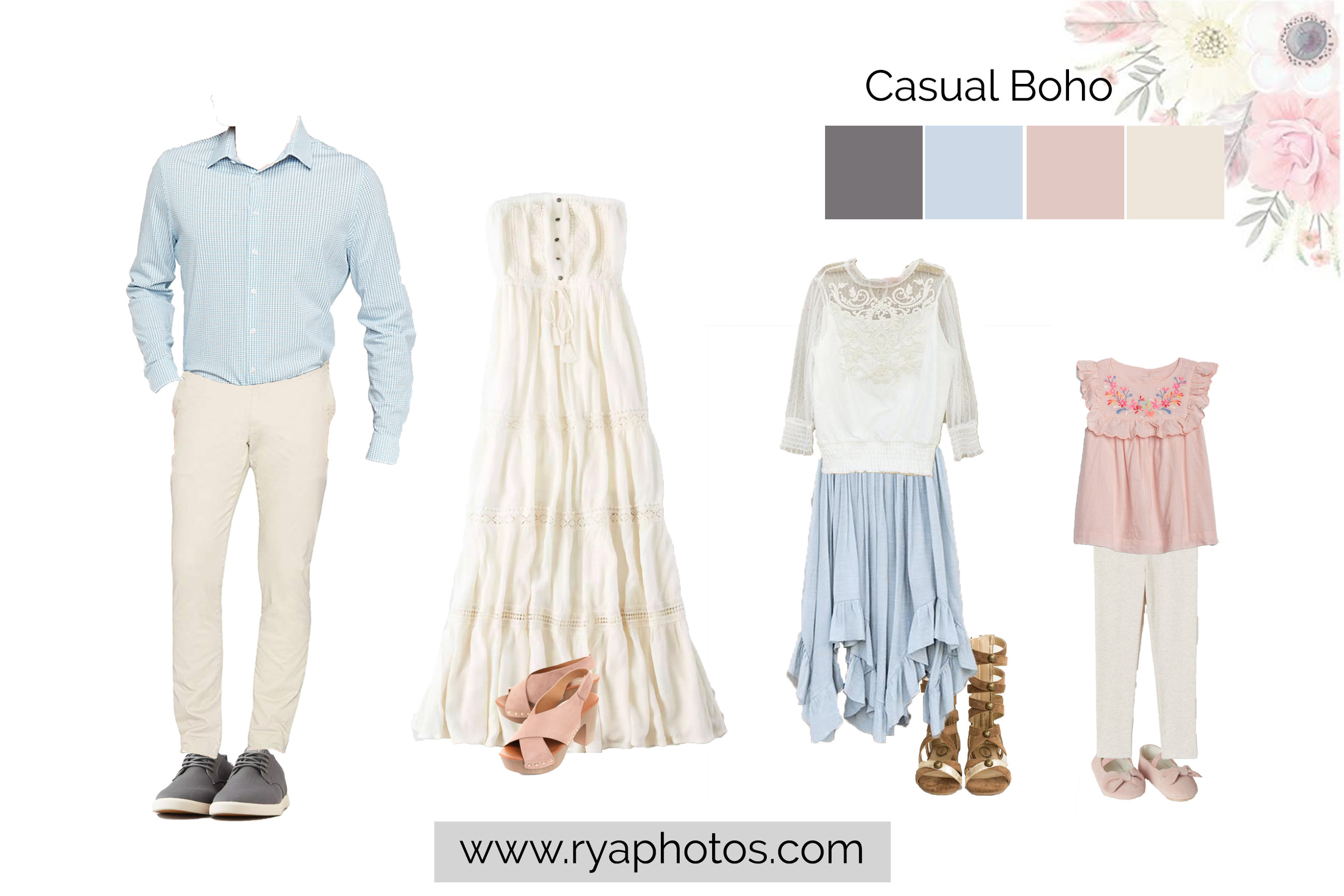 Mom's Outfit
Dad's Outfit
Big Sister's Outfit
Little Sister's Outfit
Urban Hipster
Finally, family outfits to wear to Disney World, for the family that wants to look like they came up with this perfectly coordinated look without even a second thought. For this Magic Session family portrait ensemble, I chose washed denim as the primary "color". Different yet complementary patterns tie the outfits together. Even with a more urban aesthetic, these pieces still lend themselves wonderfully to the Walt Disney World environment! 
Check out the Ryaphotos Urban Hipster Family Outfits to Wear to Disney World, and purchase items via the links!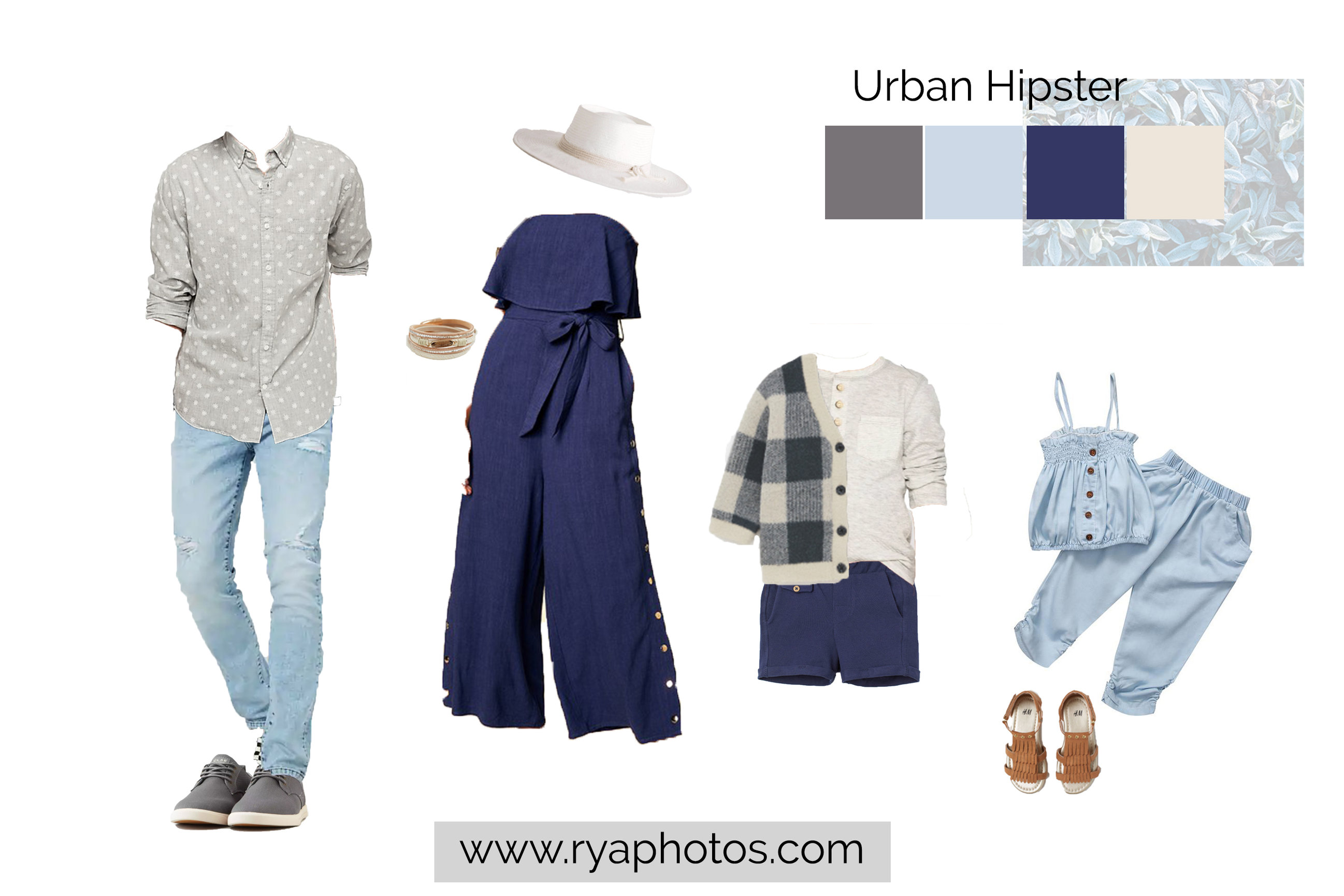 Ready to book your Magic Session? Click here to reserve your Magic Session at Walt Disney World's Magic Kingdom Park. 
Please feel free to contact Rya via phone at (904) 878-4234. You can also email me directly at rya@ryaphotos.com.
I look forward to documenting the childlike wonder of the people you love most, at the one and only Walt Disney World.